Microsoft have recently announced that Lync to Skype connectivity is now available. Meaning you can now send IM and make audio calls to Skype users (provided they are logged into Skype using their Microsoft account). Video calling is not yet available unfortunately.
This integration is achieve using your existing Lync to Windows Live PIC (Public IM Connectivity) federation, hence the requirement for the Skype user to be logged in with their Windows Live/Microsoft address.
Once you've added the user's Windows Live/Microsoft address, you can IM them like this: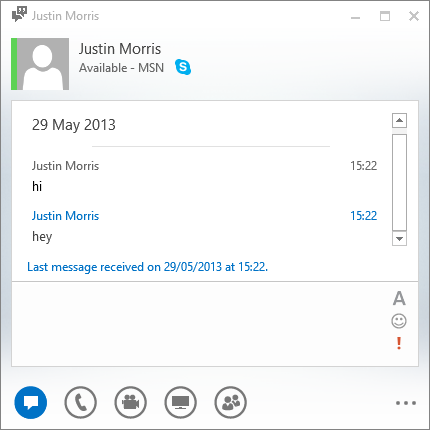 Then you can place a call, which looks like this from the Skype side:
Once the call is up, it looks like this from the Lync side:
And it looks like any other call in Skype:
Required Server Changes
One thing to note is that Microsoft's blog post shows an option to add a Skype contact from the "Add a Contact not in My Organisation". This isn't in the Lync client by default and requires a change to your environment.
To enable this, you need to remove your existing MSN public provider and create a new Skype provider. You will need CsAdministrator rights to carry out these cmdlets:
Remove-CsPublicProvider -identity MSN
New-CsPublicProvider -ProxyFqdn federation.messenger.msn.com -VerificationLevel UseSourceVerification -Enabled $true -IconUrl https://images.edge.messenger.live.com/Messenger_16x16.png -Identity Skype
Once you've run it, it'll look like this in LSMS:
Once you've completed the above and signed out of Lync and back in, you'll see the option to add a Skype contact under "Add a Contact Not in My Organisation".
Thanks to the always helpful Jens Trier Rasmussen for this information.