This is great news and benefits me personally because I use Communicator for Mac and don't have the Online Meeting Add-In for Outlook. What this now enables is a web-based way of scheduling and managing your meetings using Lync (which was available in OCS 2007 R2). It allows you to do the following:
Schedule a new online Lync meeting.
List all existing Lync Server 2010 meetings that you've organised.
View and modify details of an existing meeting.
Delete an existing meeting.
Send an email invitation to meeting participants by using a configured SMTP mail server.
Join an existing conference.
if we compare this to what the Online Meeting Add-In for Outlook can do, here's where the shortcomings are:
Lync Web Scheduler does not support scheduling recurring meetings.

Lync Web Scheduler lists only meetings that were organized by the user. It does not list all meetings that the user is invited to. Further, meetings created using some other tool will not be editable using Lync Web Scheduler.
Lync Web Scheduler is available only in English.
Meeting invitations that are generated by Lync Web Scheduler do not look exactly the same as those that are generated by the Online Meeting Add-In for Outlook.
Lync Web Scheduler doesn't interact with the calendaring server. Calendar updates happen only via email invitations.
The download is available here. Install is pretty quick and simple, and it installs as a virtual directory onto IIS on your Lync Front End server. Note that if you have multiple front end servers as part of a pool, you'll need to install the Web Scheduler on each front end server.
Once it's installed, you'll need to setup an SMTP server for it to use to send out meeting invites. This is covered in the Readme file so I won't reinvent the wheel.
To access the Web Scheduler itself, navigate to https://YourPoolWebFQDN/scheduler (e.g. https://lyncweb.domain.com/scheduler) and authenticate, which looks like this:
Make sure you use your Web URL, not your Pool URL if you have a DNS load balanced pool. Otherwise you'll see nothing but a blank screen after login.
Once you've logged in, you'll be presented with the Lync Web Scheduler. From here you can view your current meetings and also create new ones, as illustrated below: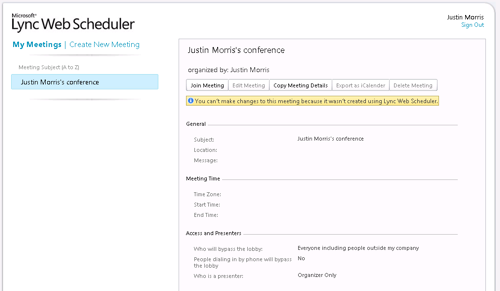 Pretty easy huh? Now go forth and deploy and get your Mac and web-based clients scheduling meetings on Lync!