One of the great new conferencing features introduced in Lync Server 2010 was the ability to play entry and exit announcements in audio conferences. Along with having participants record their name upon joining, this functionality brings Lync even closer to replacing traditional dial-in conferencing bridges.
However out of the box, Lync conferences don't play entry and exit announcements by default. The option is available in the Lync conference but the presenter must turn this on when they begin the meeting as shown below.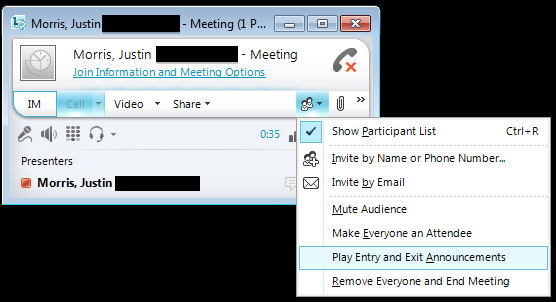 This provides a lot of flexibility to the individual conference organiser, but a lot of organisations want this behaviour to be on by default for all conferences. In this post, I'll cover how to configure this in Lync Server 2010.
How is this controlled?
Let's check out how we control this behaviour on the backend. This functionality is managed using a Lync Dial-In Conferencing Configuration, and defines functionality related specifically to Lync dial-in conferences (big surprise). 🙂
From the TechNet Library article on this, we can determine that the following items are configurable:
Are entry/exit announcements enabled by default?
Do non-authenticated users need to record their name before they enter the conference?
The entry and exit announcement type (does the conference play the user's recorded name or just a tone on entry/exit).
From Lync Server Management Shell, we can run Get-CsDialInConferencingConfiguration to check what's setup by default:

So as I mentioned above, entry and exit announcements aren't enabled by default. What we'll be wanting to do is change the EntryExitAnnouncementsEnabledByDefault value to True, so participants names are announced whenever they join or leave the conference.
How do we configure it?
To configure this, we create a new Dial-In Conferencing Configuration and assign it to a Central Site by running the following cmdlet in Lync Server Management Shell:
New-CsDialInConferencingConfiguration -identity Site:StAlbans -EntryExitAnnouncementsType UseNames -EntryExitAnnouncementsEnabledByDefault $True -EnableNameRecording $True
If you only have one Central Site or would just like to modify the Global configuration, you can substitute the New-CsDialInConferencingConfiguration cmdlet for Set-CsDialInConferencingConfiguration.
Now if we run the cmdlet Get-CsDialInConferencingConfiguration again, we can see that we have the Global configuration as well as our new Site level configuration:

Observing the Expected Behaviour
If we join a conference now and check the setting in the Lync client again, we can see that Play Entry and Exit Announcements is turned on by default now.
Once this is configured, Lync will announce in the conference that "(Participant name) is now joining" when the user joins the conference. When the user leaves the conference, Lync announces that "(Participant name) is now exiting".
One thing worth noting is that for non-authenticated users that have recorded their name, it will play the recording. For authenticated Lync users, the conference will do text-to-speech on their Lync display name e.g. it will read out their name by itself.
Conclusion
Lync's built in dial-in conferencing bridge is one of the most compelling features that I see customers adopt when they deploy Lync. By configuring these features in Lync, we can provide a dial-in conferencing solution that provides all the functionality services like BT MeetMe provide at significantly less cost.