I'm thrilled to announce that I'll be speaking about Lync at TechEd North America again this year!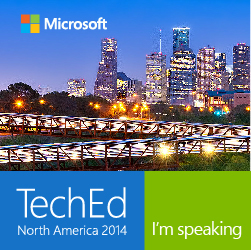 I'll be presenting my Understanding How Microsoft Lync Server 2013 Leverages the Complete Microsoft Infrastructure Ecosystem session from Lync Conference 2014 in Houston as part of the 20 other Lync sessions in the Office Servers and Services track.
I'm looking forward to seeing folks interested in Lync from all over Canada and the USA again, and in addition to my breakout session I'll be working the Microsoft Lync booth and at the Ask the Experts event.
I'll also be joined by other MVPs like Stale Hansen, Brian Ricks, Johan Delimon, Tommy Clarke, Bhargav Shukla, Paul Robichaux, Ken Lasko and Adam Gent along with Microsoft folks, so there will also be someone on hand to answer your questions or help you whiteboard a solution. I'll be on the hunt for some good Texas BBQ also. 🙂
See you there!