Last week we were testing various scenarios regarding the displaying of photos in Lync Mobile as there are some inconsistencies with other clients (both Mac and PC). Seems I'm making a bit of a theme of talking about photos in Lync, having clarified a few things on how they work in the desktop PC client last year.
I identified some behaviour on the mobile client that could impact how you provision photos in Lync in your environment, here's what I discovered.
How do photos display on mobile?
As I mentioned in my previous post about photos, the full blown PC client can display photos from AD/SharePoint, a URL you specify, or no photo at all. You can control this using a client policy to ensure your users all get the same experience.
On mobile, you have no control over how photos are displayed. Lync Mobile can only display photos retrieved from Active Directory or SharePoint, it cannot display a photo from a URL.
If a user is displaying a photo from a URL and there is a photo in AD, it will display the photo from AD. If there is no photo in AD, it will display no photo at all. Let me show you what I mean:
Tom's photo when I use the desktop client. Tom has a photo from a URL defined.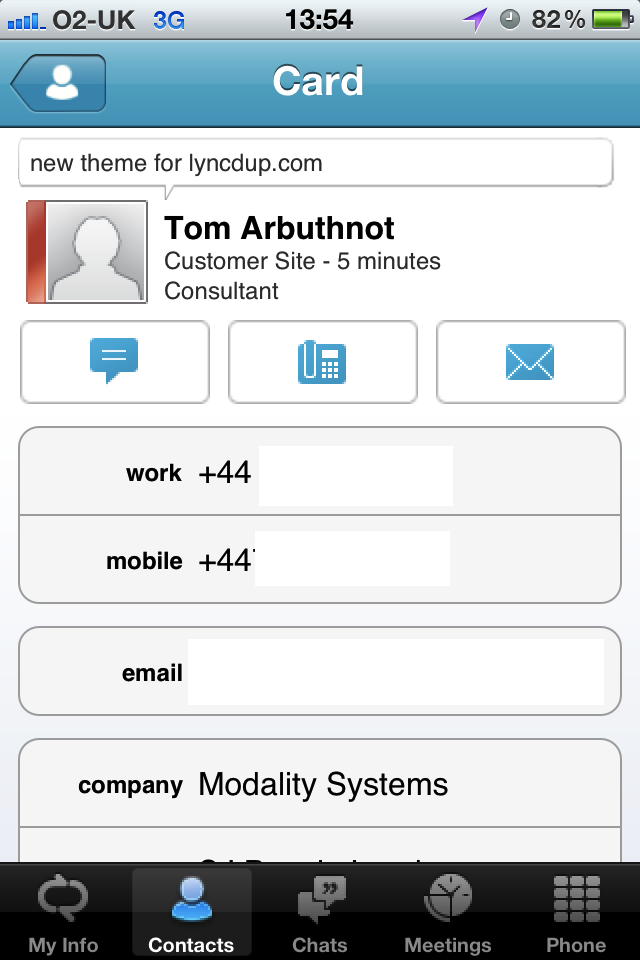 Tom's photo on Lync Mobile on iPhone. Because Lync Mobile cannot display photos from URLs, it displays no photo at all.
Implications
This has implications to your deployment because you may encounter scenarios where users are accustomed on the desktop client to seeing a photo of a user from a URL the user has specified. Once they start using the mobile client, they will either see no photo of the user/s at all (if no photo is in AD/SharePoint) or they will see the photo that is stored in AD (typically from Exchange) or SharePoint. This leads to an inconsistency in experience, which may generate calls to your helpdesk.
Not a huge one, but worth looking out for if photos are a big value point for your Lync deployment (and they should be).