Two weeks ago I announced that the Lync for Mac 2011 client was coming and got super excited.  Today, Lync for Mac 2011 became available through Microsoft Volume Licensing and thus generally available to most.
I've downloaded and installed it on my MacBook Air running OSX Lion and can now provide a first look at the new Lync client experience for Mac.
What's New
What isn't new? This client looks almost completely different to the old Communicator for Mac second class citizen. It feels A LOT more like the Lync client on Windows.
Incoming call/IM notification
Firstly, the incoming call/IM toast looks totally different. We now have a much more "Lync" looking toast going on, with the user's name and title listed, number they called on and a preview of the IM.
We can now also deflect incoming calls to voicemail, mobile, reply with IM or set to DND. Can I get a hell yeah?

Photos
We can see from the IM session below that photos are now visible in Lync. This is something I think that is a real perception changer for Lync. I know it was one of the first things I noticed about the new client back when I saw previews of Wave 14, so it's great to see the same experience on Mac.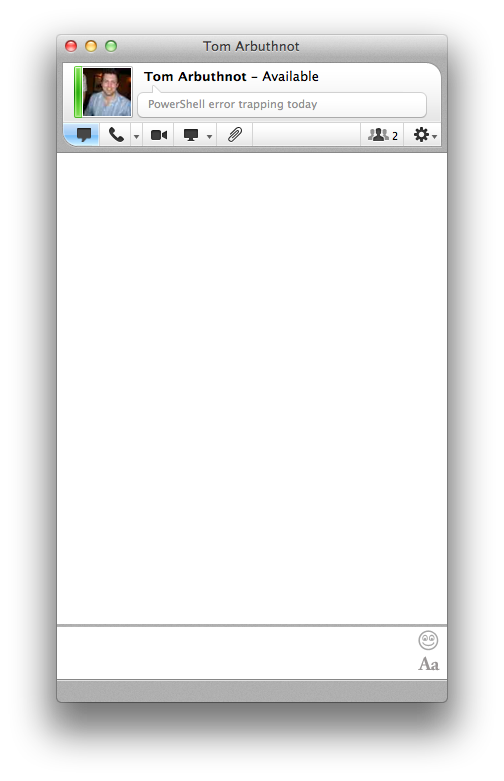 Unfortunately, we can't specify an internet URL for our photo though. Only the default corporate photo from AD or no photo at all is configurable. And yes, I have checked the Photos option in my Client Policy on Lync. 😉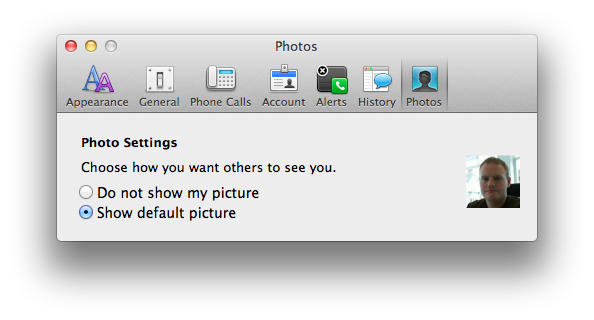 Call Control
We now have call forwarding options available in Preferences. This experience is the same as that in the Lync client on Windows, and means Mac users have the same control over incoming calls as Windows users.
Online Meetings
This is where the big improvements have been made. The Lync for Mac 2011 client can now join and create online meetings created by Lync, no more Web Scheduler!
Meet Now
From the menu bar, I can now create a meeting on the fly and select Meet Now.

Scheduling an Online Meeting
Now directly from Outlook for Mac 2011, we can schedule online meetings. Be aware this requires the 14.1.3 update (Service Pack 1) for Office for Mac 2011.
From the New Meeting screen in Outlook, I click the Online Meeting button in the ribbon and select Create Online Meeting.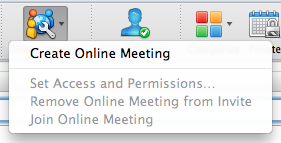 Outlook then populates the meeting request with the meeting details from Lync, ready to send to your participants: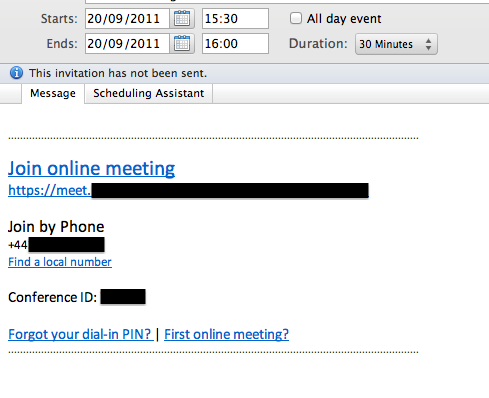 Joining an Online Meeting
Once I click Join online meeting in the meeting invite, my default browser fires up and accesses the simple URL on the Lync Server: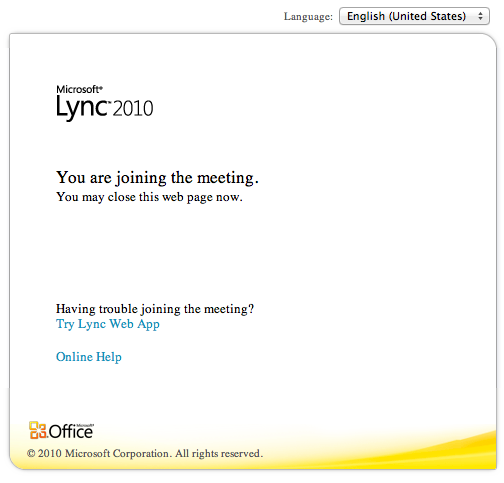 After this, Lync for Mac 2011 opens and joins the online meeting. Yeah I know, I'm deep in thought in this screencap.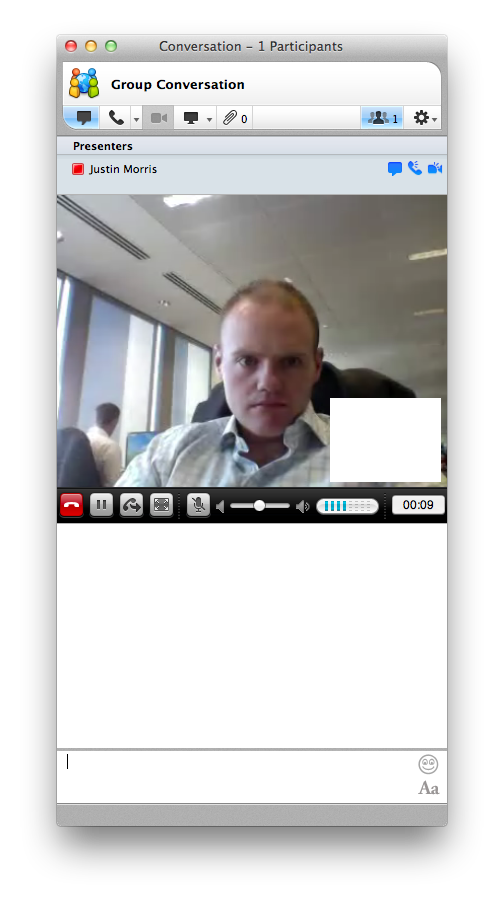 I can then do things like share my desktop, and I can see the stage that shows me what content is currently being shared. Click the image to see it at a larger size.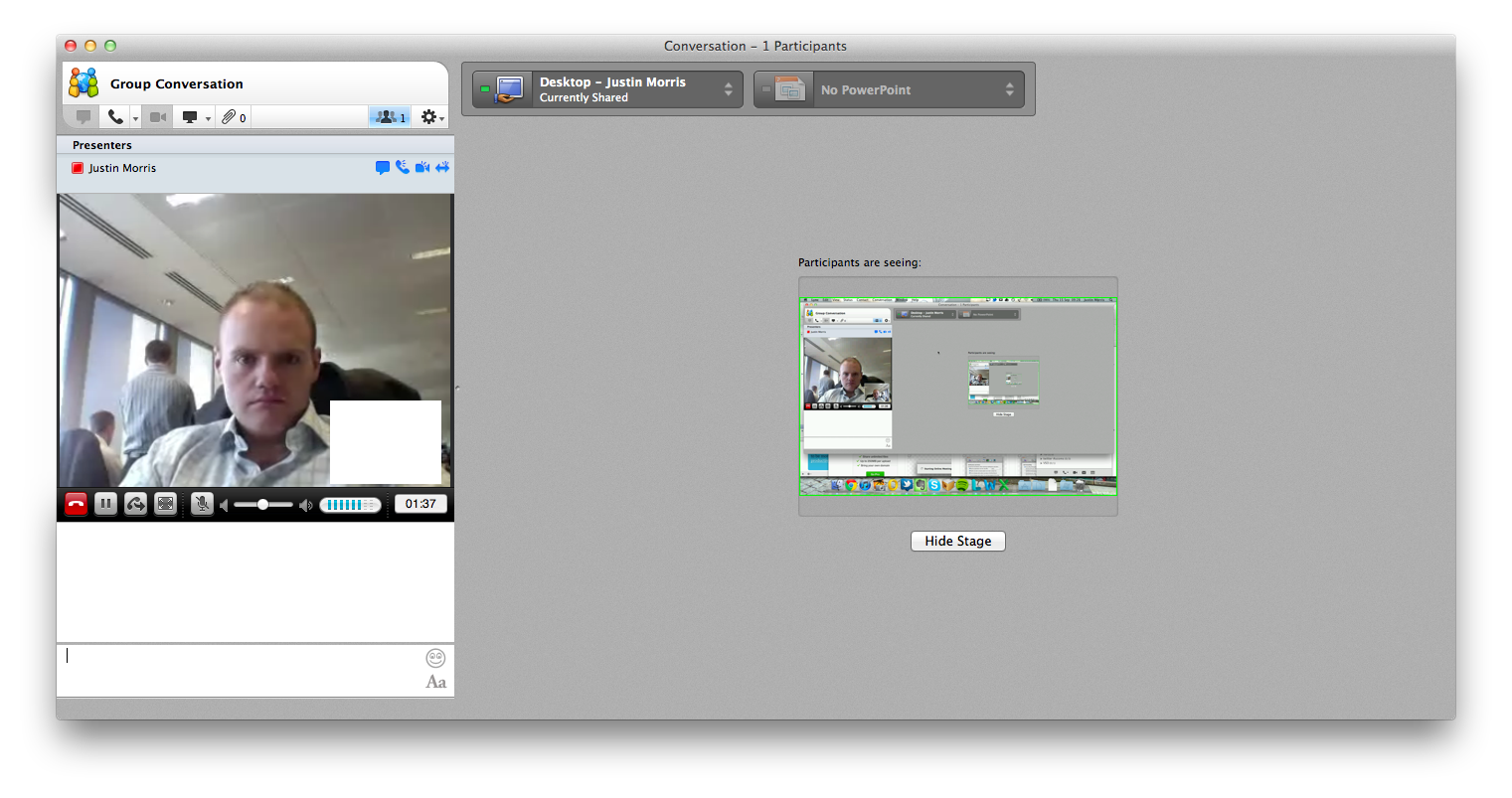 Pretty sweet huh?
What's still missing
Even for all the improvements, there are still unfortunately a few things that aren't in Lync for Mac 2011:
Can't tag a contact for status change alerts.
No feeds tab or conversation history tab.
No ability to create a team-call group.
Can't specify an internet URL for your photo, as mentioned above.
Can't save conversations to Conversation History folder in Outlook.
Still no streamlined USB audio device support, however my belief is that this is a Mac OSX limitation.
Improved Experience
This is just a quick first look at the new Mac client, but as you can see Microsoft have made some huge improvements here over the old Communicator for Mac that was really just a skinned Mac Messenger. It looks and feels more like Lync, and the meeting join experience is dead on the same now. Great to see an on-par client experience across platforms now.