This morning (UK time) the Lync 2010 for iPhone client (finally) appeared in the App Store. I've installed it and run through all of the functionality, and am stoked to bring you a run down of what everything looks like on this long awaited mobile client.
Signing In
When I first fire up the client, I'm greeted with the initial sign in screen to provide my SIP address and password. I can also drop down the More Details option to provide additional authentication/server details:
Once I've ready to go I hit Sign In and am presented with a screen telling me I'm being signed in, followed by a one-time run splash screen.
After I've been signed in, I'm asked to provide my mobile number so Lync can join me to meetings and so I can use the Call via Work feature.
My Info
When I first sign in, I'm greeted with my own information, showing my note, status and whether simultaneous ringing is on: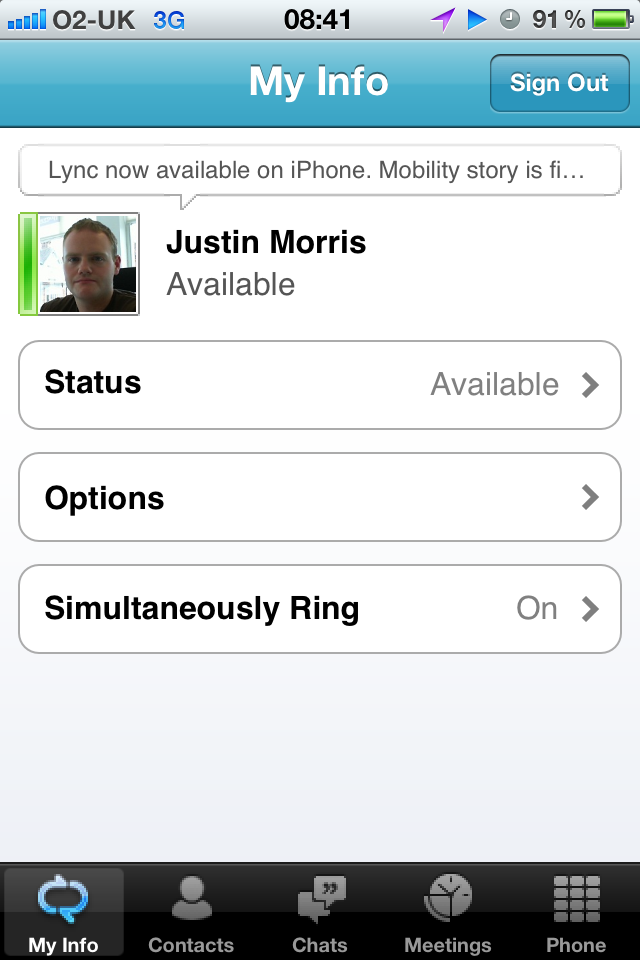 From here I can set my status, change some basic options and set my simultaneous ring options:
Contact List
When I touch the Contacts tab, I'm presented with my full Lync contact list in all it's photo-adorned glory:
When I touch on a user I'm presented with their contact card and all their information. I can choose to IM them, call them or email them:
Chats
From the user's contact card, I can initiate an IM session with them and go ahead and start sending IMs like normal: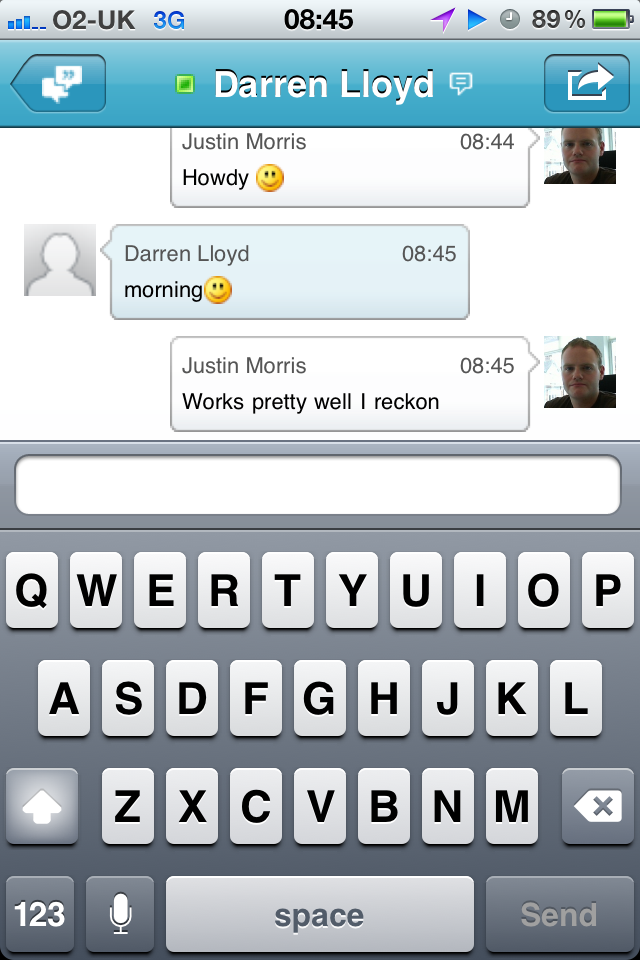 From here, I can then bring up some more options by touching the icon in the right top corner where I can opt to call the contact, send my location or delete the conversation: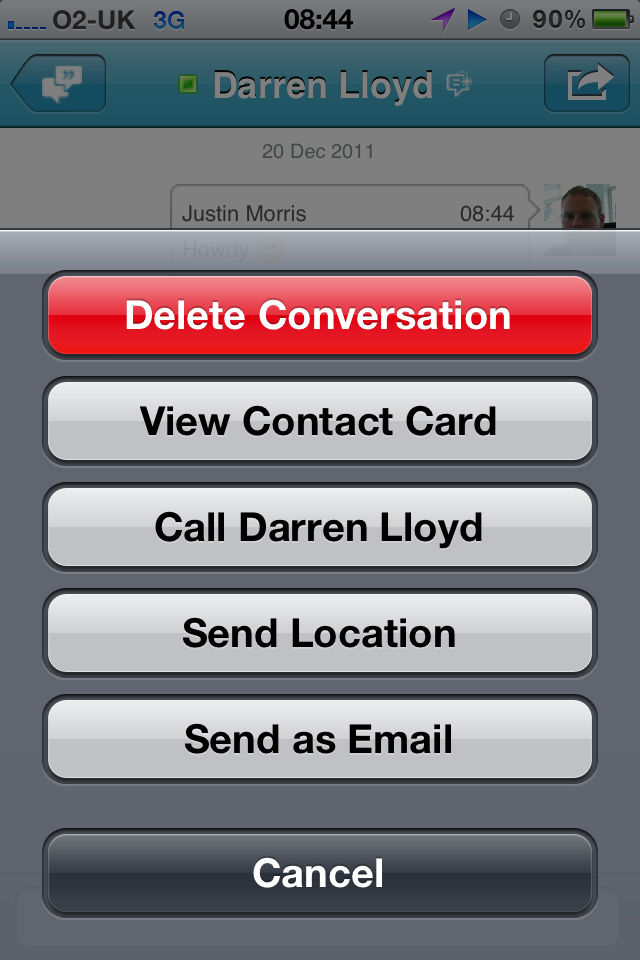 Sending My Location
This is a pretty cool new feature – I can send my address and a link to a map in an IM. Handy for telling people where you are on the go.
When I hit Send Location, Lync uses the iPhone's GPS to locate me on Bing Maps: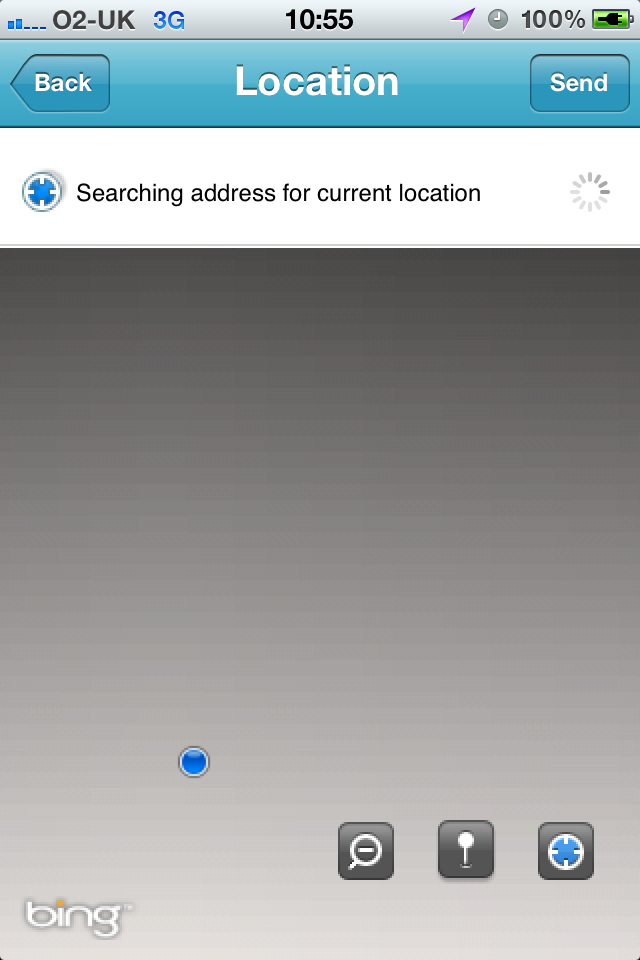 Once it's pinpointed where I am, it shows the approximate address and point on the map (in this case, our office in St Albans :)) before I press Send: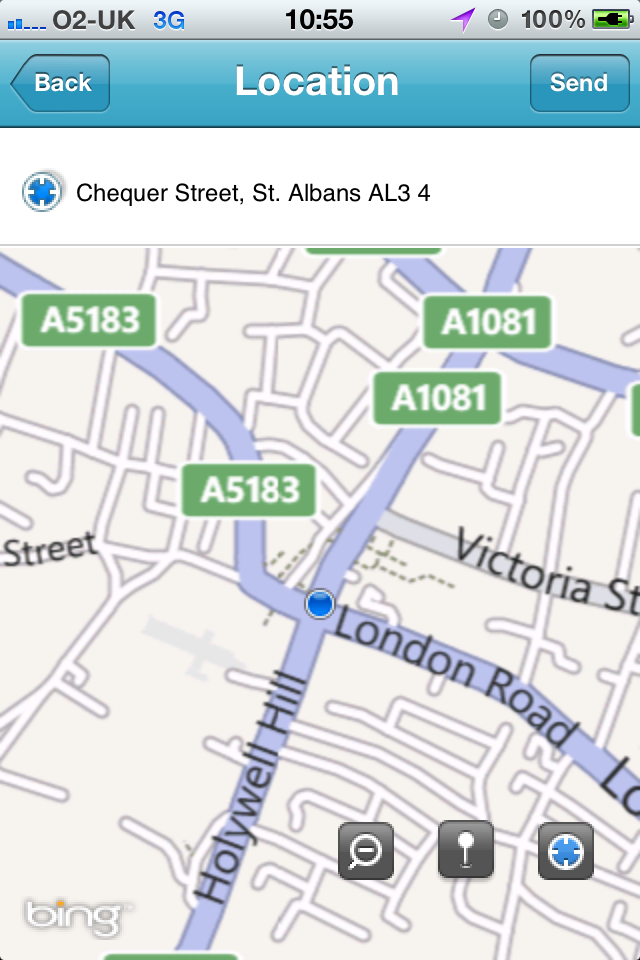 Once I've clicked Send, Lync sends an IM to the other user informing them of my address and gives them a link to a Bing Map of where I am. Smart.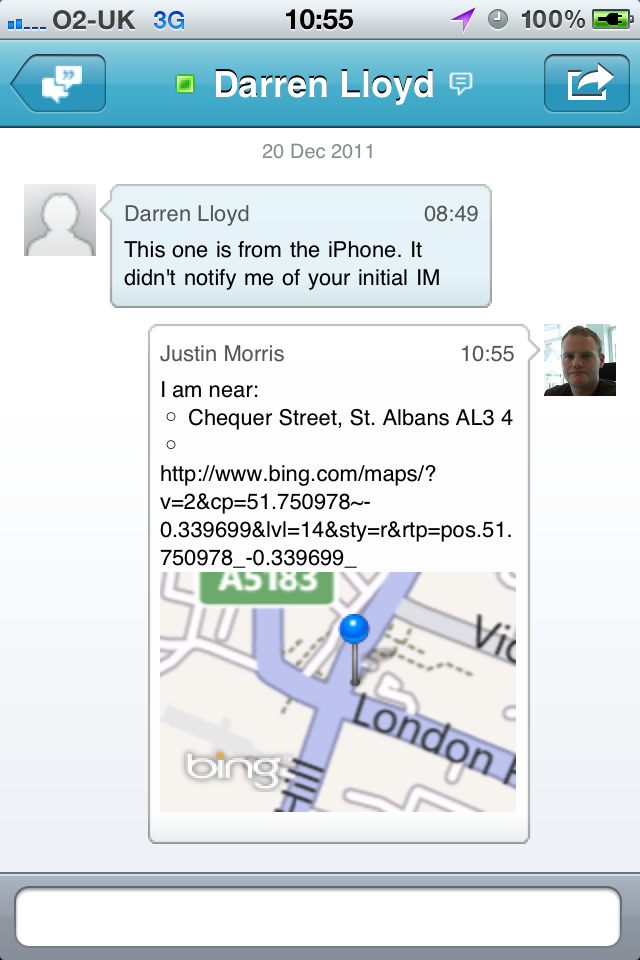 Finally, if I press the back button (in the top left of the screen), I'm taken to my active chats: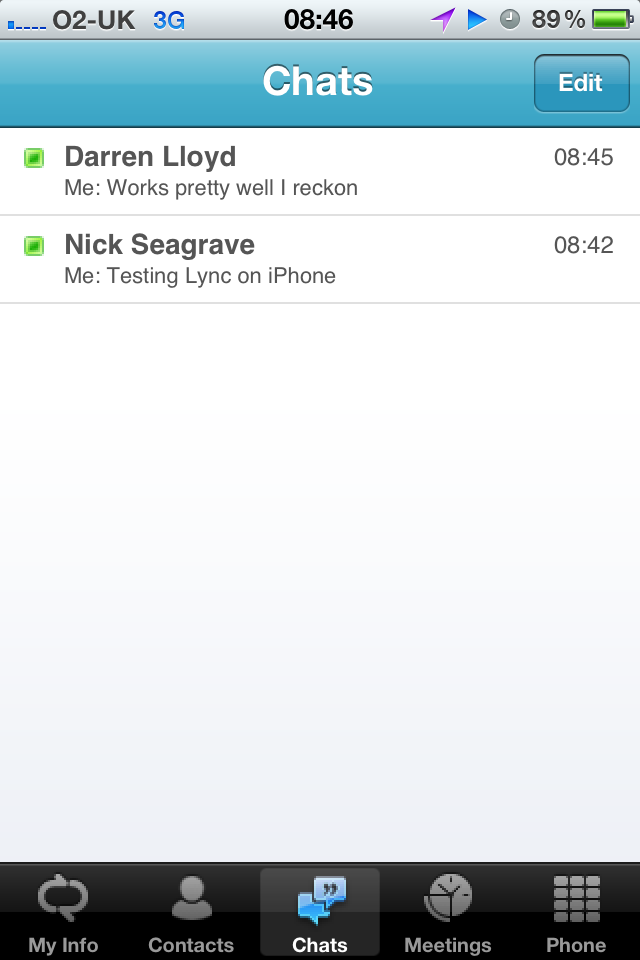 Joining Meetings
From the Meetings tab, I can see the meetings I have on during that day: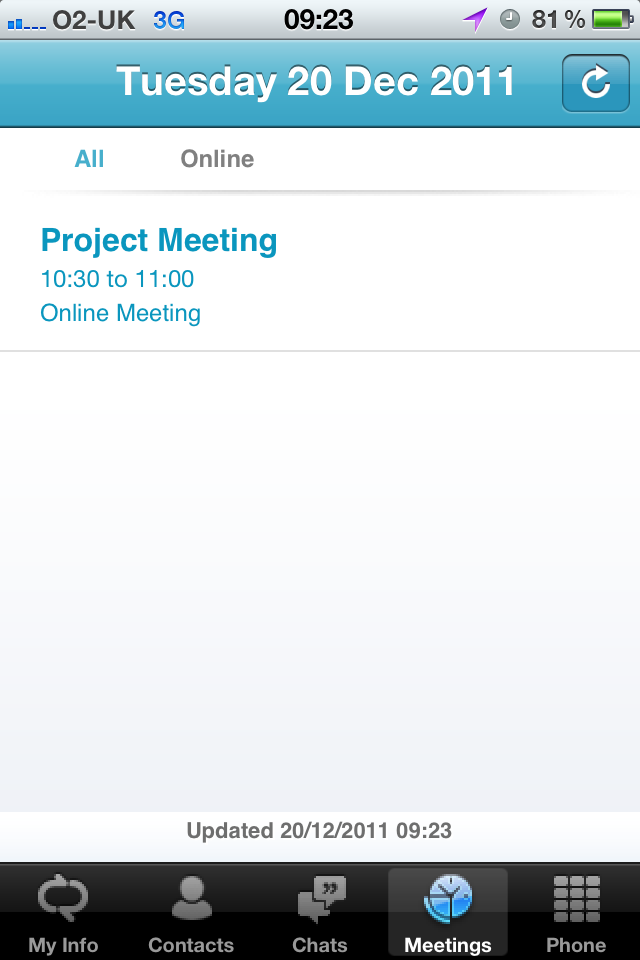 Note, this information is pulled directly from Exchange and not from the local iPhone calendar. I verified this by creating an Online Meeting in Outlook and then saw it refresh in Lync Mobile first and not the iPhone Calendar.
When I touch on the meeting, I'm then greeted with the event details and an option to join the Online Meeting: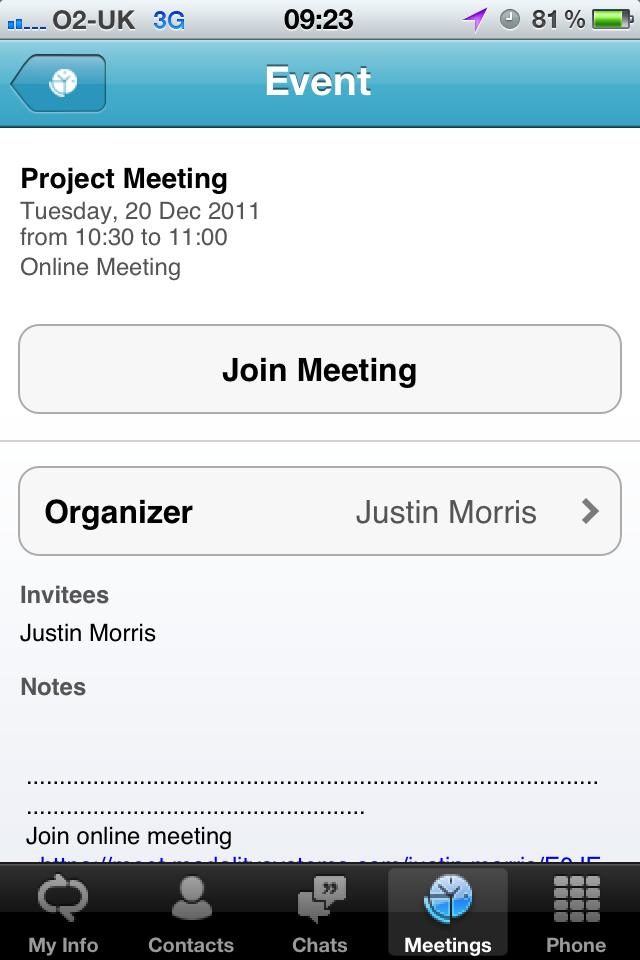 After I click on Join Meeting, I'm presented with a screen informing me that I'm joining the meeting and that Lync is preparing to call me, shortly followed by an incoming call:
Making Calls
When I press the Phone tab, I'm greeted with a display of my voicemails. By clicking on these, I can opt for Lync to call me back to play these messages to me: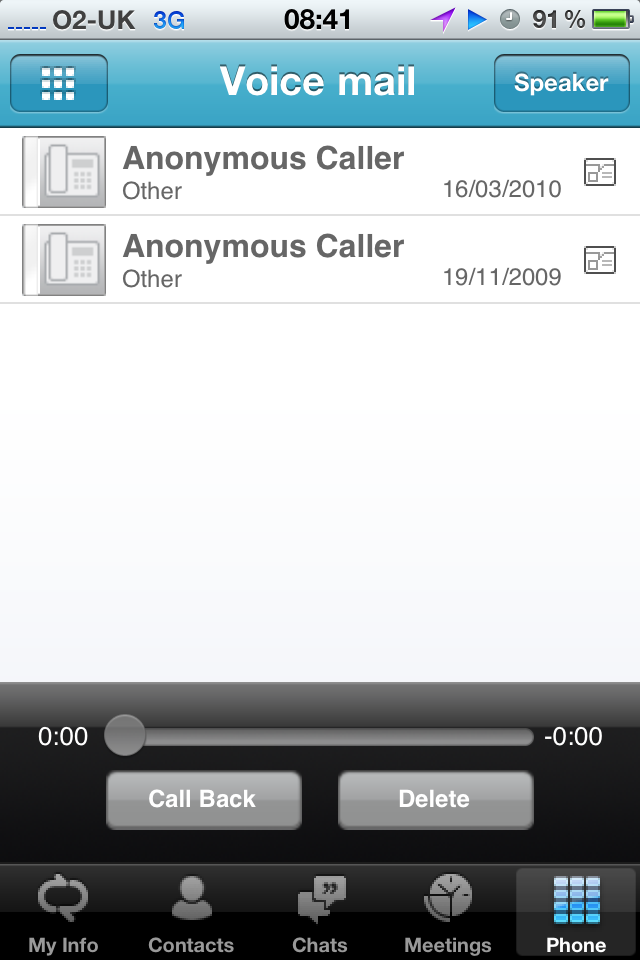 Note that this is mobile carrier voicemail and NOT Exchange Unified Messaging voicemail.  Upon further investigation I have found that this is in fact Exchange UM Voicemail and not your mobile carrier's voicemail.
I can also press the keypad icon in the top left corner to get a dial pad where I can make calls. These calls are initiated from the Lync server using the "Call via Work" function over the PSTN (Randy Wintle wrote a great post defending this functionality).
This enables Single Number Reach and ensures whoever I call sees the same single work number regardless of which device I use.
Conclusion
It's fantastic to finally see the iPhone client in the wild and available to the masses. It's fast, doesn't churn battery like CoMo did and the calendar integration is tip-top.
As with all IT assets, make sure you evaluate this client properly and set the correct expectations for your users before supporting it. Be prepared for calls to your helpdesk asking about this client and the others (WP7/Android) as they are freely downloadable from the App Store but won't work unless your backend Lync infrastructure is up to scratch.